Description
OVERVIEW
Hear your games in full 7.1 virtual surround sound! The Sound BlasterX H6 is a high performance USB gaming headset that delivers powerful audio, whether you're on PC, PS4, Xbox, or Nintendo Switch.
Enjoy loud but accurate audio with its custom-tuned 50mm Neodymium drivers, along with Sound Blaster's full suite of powerful audio enhancements, including Scout Mode that lets you hear your enemies before they hear you! The headset also features a detachable noise-reducing ClearComms microphone for in-game voice comms. Lastly, the Sound BlasterX H6 also features three professionally-tuned hardware EQ profiles, breathable and replaceable fabric earpads for comfort, and customizable Aurora Reactive RGB Lighting.
Loud and Proud
Prepare for some seriously powerful audio. The Sound BlasterX H6 has its audio pumped out through professionally-tuned 50mm Neodymium magnet drivers. These drivers are optimized to deliver the impact and power necessary for true immersion into the game environment, while at the same time maintaining the precision and subtlety needed to reproduce tiny, crucial audio details such as footsteps and reload sounds.


All Sound, All Around
Immerse yourself in your PC gaming with the Sound BlasterX H6's 7.1 virtual surround sound capabilities! Perfect for first person shooters, open world games, and Battle Royale environments, the Sound BlasterX H6 utilizes Sound Blaster's proprietary Surround audio enhancement to ensure you'll feel like you're right in the middle of all the action.
Clear Communications with Teammates
Perfect for team-based games, the Sound BlasterX H6's detachable noise-reducing ClearComms microphone is optimized to ensure your teammates will hear you loud and clear. The headset also features mic monitoring, so you can hear how your voice sounds over the mic. Lastly, the ClearComms microphone also has a red LED that indicates when you have muted it.
Comfortable for Long Hours
The Sound BlasterX H6 is designed to be comfortable for long hours. Its detachable earcups are made of breathable mesh fabric that allows heat to dissipate easier than leather cups, and the built in memory foam conforms to the shape of your head.
Not Tight, Just Right
We designed the Sound BlasterX H6 to have a clamping force of less than 600g. It's the optimal balance that ensures the headset sits securely enough on your head and provides a good enough fit for bass, yet isn't uncomfortable.
Listen to the Outside World
The Ambient Monitoring feature lets you to listen to your surroundings while keeping the headset on. The sound of your surroundings won't be transmitted through comms to teammates.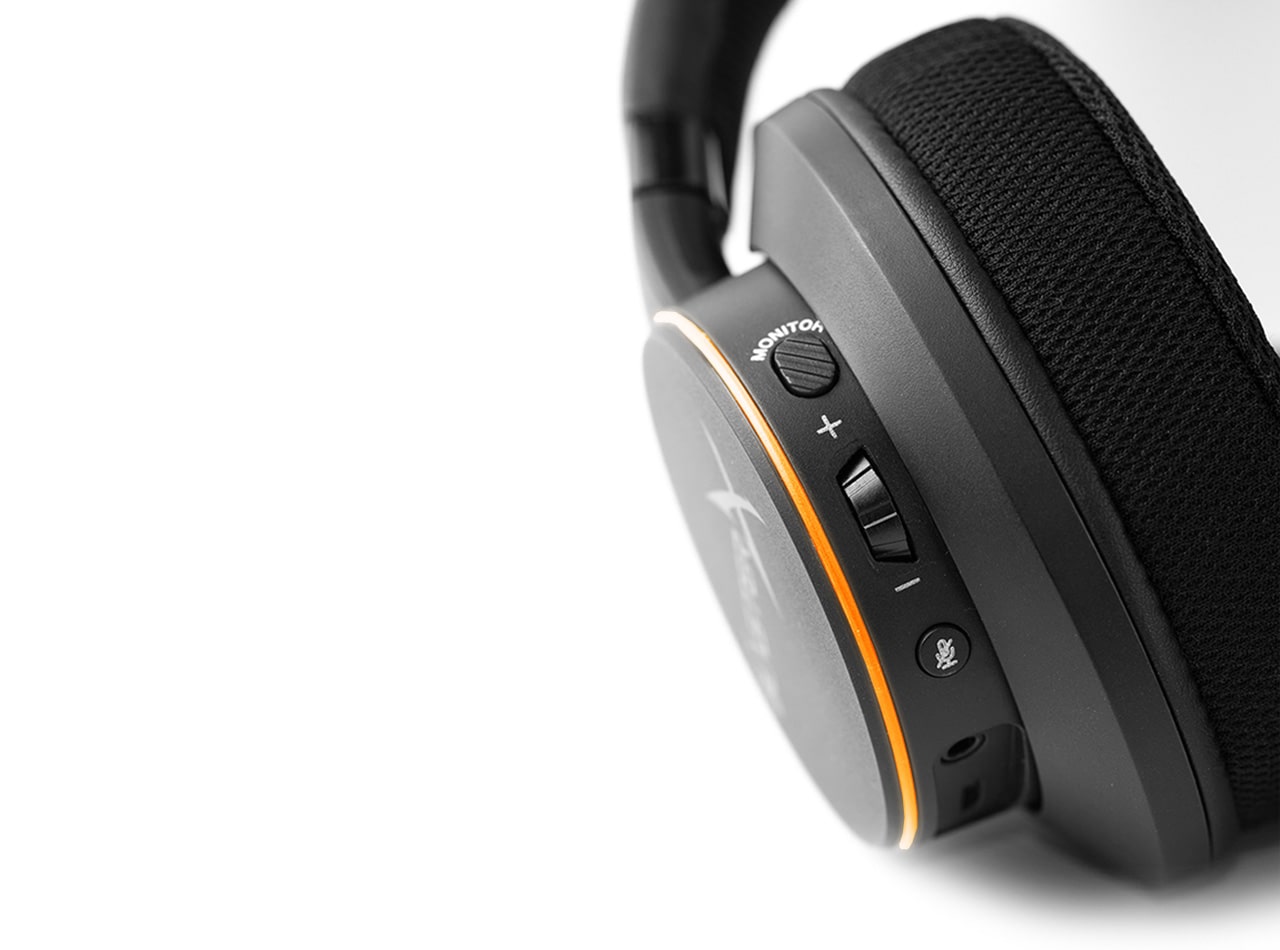 Controls at Your Fingertips
Controls are easily within reach, and are intentionally placed on the left earcup, so you never need to take your right hand off the mouse when you're in-game.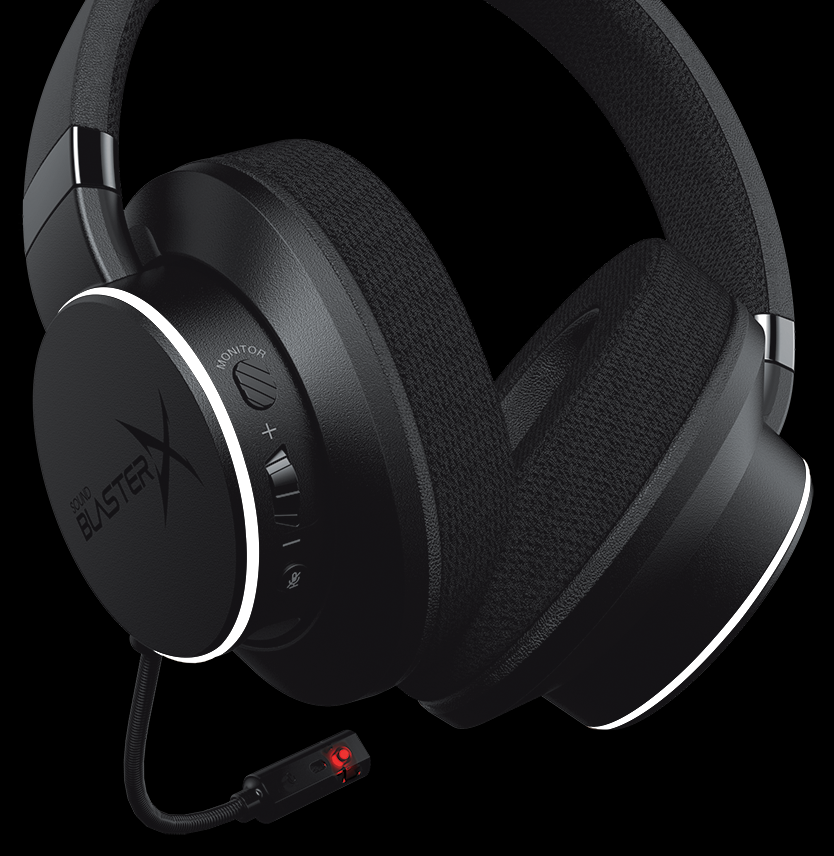 16 Million Pretty Colors
Each of the Sound BlasterX H6's earcups houses an Aurora Reactive RGB Lighting ring. Customize the headset with special effects like pulsating or cycling, and with up to 16 million colors to choose from.
SLIDE TO PERSONALISE YOUR COLOUR
PC GAMER
If you're looking for a great gaming headset, that won't miss an audio-beat, and excels with all other media, then the Creative Sound BlasterX H6 is a safe and strong choice that won't let you down.
88/100
IGN
Frankly, the Sound BlasterX H6 is a no-brainer. Priced at just $80, it is a little less expensive than the bigger brother X7 (and honestly, it doesn't look like you're missing much). For that price, you get great audio performance in a very, very comfortable package. And it's versatile enough to work with any platform – great if you switch gears from PC to PS4 to Xbox.
8.6/10
TECHAERIS
If you're looking for an affordable, decent-sounding gaming headset that you can use on your PC, console, and mobile device, the Sound BlasterX H6 USB Gaming Headset is definitely worth considering, especially given its current sale price.
9.1/10
C. MITAKOS
Love the sound quality especially at this price range!!! They look awesome, feel great and are comfortable after long sessions of gaming!!!!
A. TAKKUMÄKI
This headset is simply amazing for this price! The headset is very comfortable and I can easily use it for long gaming sessions without my ears getting melted or hurt. The sound quality is very good and you can enhance and tweak it even more with the Sound Blaster Connect software. You can switch between Stereo, 5.1 and 7.1 surround and choose the one which suits you the most. Also the 7.1 virtual surround works very well and its not overemphasized. Same goes for the bass. Most gaming headsets have too much bass which dampens the other sound frequencies but Creative Labs have done awesome job and there is just right amount of bass and of course you can tweak the bass level to your liking with the Sound Blaster Connect software. This headset is not only for gaming, you can also use it for making and listening music because this headset provides clear sound quality and frequencies so you can hear the song how the artists made it to be heard. The microphone totally surprised me. It has very good sound quality and it's easily the best microphone you can have in this price range of headsets. It even has better sound quality than some more expensive headsets. Currently no other headset microphone can come this close to this microphone in this price range. The built quality is very good and the headset feels sturdy and like I already mentioned it is very comfortable. This was my first headset from Creative Labs and because of this successful experience I can't wait to see what they come up with next!
P. CHOUDHURY
Perfect headset. Perfect packaging and super fast delivery. Worth every penny. 👍🏼👍🏼👍🏼
Audio Processing

BlasterX Acoustic Engine
Audio Drivers

50mm FullSpectrum
Headset Frequency Response

20Hz ~ 20kHz
Audio Technologies

Scout Mode
Interface

USB, 3.5mm Stereo Input
Supported Operating Systems

Windows® 7, Windows® 8, Windows® Vista, Windows® 8.1, Mac OS X v10.8 and above, Windows® 10
Supported Gaming Consoles

Xbox One™ via 3.5 mm 4-pole audio cable (With Xbox One Stereo Headset Adapter), USB connection, PlayStation® 4 via USB, Nintendo Switch (no voice comms) via USB (Dock) and 3.5 mm 4-pole audio cable (Console)
Microphone

Detachable: Yes
Impedance: <2.2k ohms
Sensitivity: -42dB
Frequency Response: 50Hz ~ 15kHz
Microphone Type: ClearComms Unidirectional Condenser Microphone
SYSTEM REQUIREMENTS
Windows® OS
Intel® Core™i3 or AMD® equivalent processor
Intel, AMD or 100% compatible motherboard
Microsoft® Windows 10 32/64 bit, Windows 8.1/8.0 32/64 bit, Windows 7 32/64 bit
1GB RAM
>600 MB of free hard disk space
USB 2.0 / USB 3.0 port
Mac® OS
Mac OS X® 10.9 or higher
1GB RAM
USB 2.0 / USB 3.0 port
PS4
Firmware Version 5.0 or later
Available USB port
PS5
Firmware Version 20 or later
Available USB port
Xbox One
Xbox OS Version 10.0 or later
Voice communications supported via 3.5mm Headset jack on Xbox controller
Nintendo Switch
Switch OS 5.0 or later
Available 3.5mm headphone port
Available USB port (in docking mode)
PACKAGE CONTENTS
Sound BlasterX H6
2M USB Cable
1.5M 3.5mm Audio Cable
Quick Start Leaflet
Warran